Jurnal Pendidikan dan Pembelajaran IPA Indonesia adalah jurnal ilmiah yang diterbitkan oleh Pascasarjana Universitas Pendidikan Ganesha. Jurnal ini bertujuan untuk mewadahi artikel-artikel hasil penelitian dibidang Pendidikan sains. Pada akhirnya Jurnal ini dapat memberikan deskripsi tentang perkembangan ilmu pengetahuan dan teknologi di bidang pendidikan sains bagi masyarakat akademik. Jurnal ini terbit 3 kali setahun.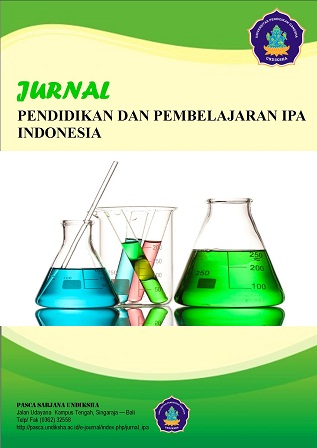 ONLINE SUBMISSION
Already have a Username/Password for Jurnal Pendidikan dan Pembelajaran IPA Indonesia >> GO TO LOGIN
or Need a Username / Password? >> GO TO REGISTRATION
OUR TIMELINE AND JOURNAL PUBLICATION
Do you want to look our latest publication >> CURRENT
or See all our publication >> ARCHIVES
If you have some problem or questions, don't hesitate >> CONTACT US
For quick response please send e-mail to jplk@undiksha.ac.id and. Please mention your subject: Your Name and what kind of your problem with our Online Submission system. Our team will reply to all your questions or problems related to our Journals as soon as possible or at least 24 hours after you send the message. Thank you for your patience.
Connect with your personal academic repository and researcher hub:

Dedicated to: