Jurnal Administrasi Pendidikan Indonesia (Indonesian Journal of Educational Administration) with ISSN 2613-9561 (printed) and ISSN 2686-245X (Online)] is an open-access peer-reviewed journal published by the Postgraduate Program of Ganesha University of Education. The inaugural issue of Jurnal Administrasi Pendidikan Indonesia appeared in 2010. Starting 2018, Jurnal Administrasi Pendidikan Indonesia publishes two issues annually (June and December).
Jurnal Administrasi Pendidikan Indonesia is a nationally accredited journal based on the Decree of the Indonesian Minister of Research, Technology, and Higher Education Number 200/M/KPT/2020 which is valid for 5 years since enacted on December 23, 2020.
Jurnal Administrasi Pendidikan Indonesia has already been a member of Crossref and, therefore, all the published research papers will be given a unique DOI number. Jurnal Administrasi Pendidikan Indonesia is currently indexed in Google Scholar, Sinta, Garuda, and Dimensions.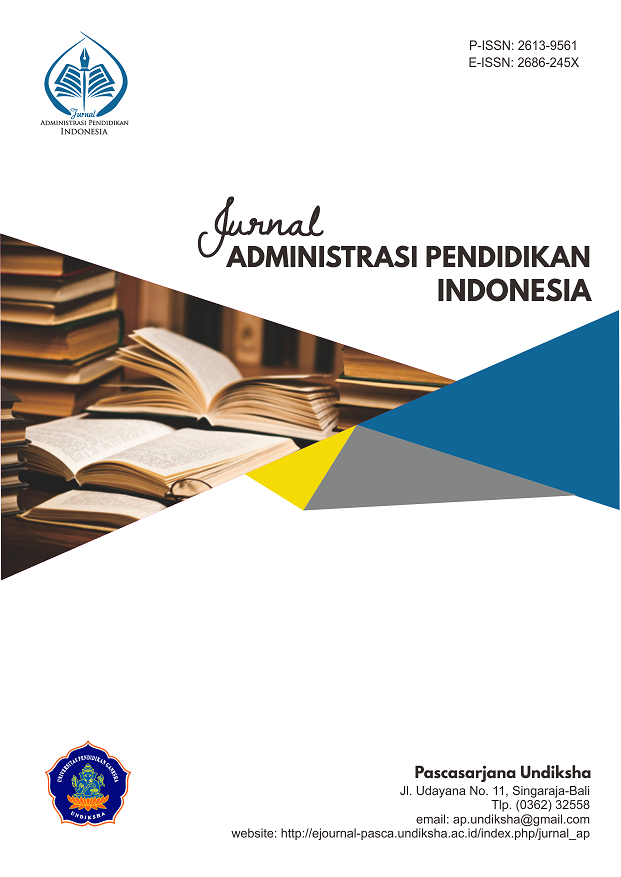 ONLINE SUBMISSION
Please see the Author Instructions prior to submitting your manuscript. This will ensure that your paper gets published as quickly and efficiently as possible. The publisher maintains the right to return any manuscripts not formatted according to these guidelines.
Already have a Username/Password for Jurnal Administrasi Pendidikan Indonesia >> GO TO LOGIN
or Need a Username / Password? >> GO TO REGISTRATION
OUR TIMELINE AND JOURNAL PUBLICATION
Do you want to look our latest publication >> CURRENT
or See all our publication >> ARCHIVES
If you have some problem or questions, don't hesitate >> CONTACT US
For quick response please send e-mail to ap.undiksha@gmail.com or made.darmana@undiksha.ac.id. Please mention your subject: Your Name and what kind of your problem with our Online Submission system. Our team will reply to all your questions or problems related to our Journals as soon as possible or at least 24 hours after you send the message. Thank you for your patience.